Services We Offer

Australasia EduConnect Group's Qualified Education Agent Counsellors can help you identify and satisfy the entry requirements of your chosen course. For each course you will need to meet a minimum English language requirement.
Our specialised team and English language training partner can assist you to attend various tests and guide you how to obtain required test score.
We help you find the study program those best suits your personal interests and career plans, both before and after your arrival in Australia.
We assess whether you meet the academic requirements and have the necessary level of English to gain admission to the program of your choice.
If you are in Australia or in overseas we always assist our clients though English language training partner or admit into an ELICOS institutes to fulfil the minimum criteria for English.
NAATI Translations
Translations are required for your visa application if your document is not in English. Our team of translator can assist you with NAATI Translations and other translation services that you require for your visa application purposes.
Pre-arrival Assistance
We offers a range of Pre-Arrival services:
We help you decide which city and institution in Australia is most suitable for you.
We advice you on the most convenient and cost-effective arrangements for travelling to Australia and settling here.
We assist you with the enrolment procedures.
We give you advice and assistance with visa processing.
Post-Arrival Assistance
In addition to providing comprehensive information and advice before you leave home, we offer you a range of post-arrival services if you decide to come and study in Australia:
airport pickup and transfer to your place of residence.
an introduction to the city of Australia
assistance to help you settle in and find your way around, such as opening a bank account, use of public transport, getting student discounts, etc.
an introduction to the key people at the institution where you will be studying.
assistance with accommodation, where appropriate.
assistance with part-time employment, where appropriate.
assistance with legitimate study and accommodation problems.
We also offer a 24-hour telephone service, through which your relatives can contact you in case of an emergency.
Our post-arrival services complement those provided by the educational institutions themselves, and provide an alternative independent source of information, advice and help, whenever a client of ours feels in need of this.
Certify/Notarise Documents
We offer document certified and notaries' services prior to the submission of your student visa application.
We can guide you through this process to ensure your documentation is complete and correct on your student visa.
Penal Clarence Certificate
We assist with applying a Police Certificates obtain a visa for your student visa.
If you need a police certificate from a country or territory and:
are currently living there, or received the police certificate before leaving, the police certificate must be issued within six months before you apply.
have lived there in the past, the police certificate must be issued after you last lived in that country or territory.
Post-Study Work Arrangement
Our migration team assist you with Post-Study Work Arrangement:
Graduates who have completed a Bachelor degree or Masters by coursework degree in Australia will be eligible to apply for a two year post-study work visa.
Graduates who have completed a Masters by research degree or a Doctoral degree in Australia will be eligible to apply for a post-study work visa for three or four years respectively.
Other students may be eligible to apply for the Temporary Skilled Graduate [subclass 485] visa. The subclass 485 visa is a temporary visa that allows an 18 month stay to work in Australia.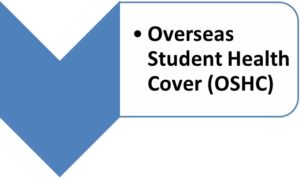 As an international student you are required to have Overseas Student Health Cover (OSHC) for the duration of your Student Visa in Australia. OSHC will help you pay for any medical and hospital care you may need while studying in Australia.
You must pay an insurance premium to cover the total period of your stay in Australia as a student, as authorised on your Student Visa. If your spouse and/or dependent children accompany you to Australia you will need to pay a family insurance premium. The insurance premiums vary from time to time and are regularly updated.
If you want to check the exact OSHC costs for periods of up to 5 years, please contact our OSHC partner to organize your health insurance and the information you need.
PLEASE NOTE: We recommend that you check the website for up-to-date information.
CV & Cover Letter preparation
Your cover letter needs to be presented in the same format that your resume or CV is formatted in accordance with the Australian job market.
A resume cover letter gives you an opportunity to describe how your specific skills and accomplishments uniquely qualify you for the job.
The cover letter purpose is to obtain an interview, not tell a lengthy story. The focus should be on your interest in the position, your qualifications, and setting up an interview.
Our professional CV & Cover Letter can assist you drafting your Australian CV & Cover Letter that stands out to meet job applications requirements.
Travel Arrangements
Through our partnerships with leading service providers, we can take care of all your travel needs including air ticketing, foreign exchange and travel insurance.
Accommodation
Your accommodation options
In choosing your accommodation you have three main options:
Home stay with an Australian family, with full board or in lodgings
International Student Residence, with full board or room only
Renting an apartment or a house
Most English students find that when they first arrive in Australia it is best to stay with a family to start with. University students can take on-campus temporary accommodation or go into a Student Residence. These options provide a secure, stable and friendly environment for you, which is important when you come to a new country and a different lifestyle. It also gives you time to talk to other students, find out what they are doing about accommodation and decide what you want to do yourself in the longer term.
Which option is best?
The answer depends on a number of things, such as your age, your past experience, your goals and the length of your stay in Australia. If you appoint us as your Education Agent we will discuss the various options with you and make a recommendation in the light of the information you provide. We will also provide you with links to a number of Australia-wide Accommodation web sites which can help you plan your accommodation arrangements in accordance with your budget.
We will help you
If you prefer to study elsewhere in Australia, the institution where you enrol will have an Accommodation Officer who will arrange appropriate accommodation for you.
For more information in relation to our services, please get in touch with our Australian Qualified Education Agent Counsellors (QEACs) (PIER QEAC No. L615) as well as an Education New Zealand (ENZ) Trained Agent at info@australasiaeduconnect.com.au.